You can use any course you want to run a learning circle, so long as it is free for the participants. There are a few different ways to search for courses.
1. SEE WHAT WE'VE ALREADY GOT
Firstly, you should know that the P2PU community documents courses that we think work well as learning circles here: https://www.p2pu.org/en/courses/. You can sort by the most popular courses and filter by subject.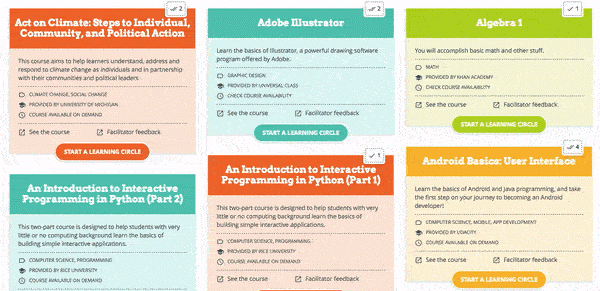 2. SEARCH BY AGGREGATOR
If you can't find something on the P2PU site, try an aggregator or search engine that looks at courses across multiple platforms. Two of our favorites are:
Open Culture stays up-to-date highlighting free online courses from around the web.
Class Central has a nice search, allowing you to search for certain subjects by a number of different filters including start date and course rating.
3. SEARCH BY PLATFORM
The most up-to-date lists of online course will be found by looking at the sites where the courses are made. However, it's a bit more time intensive. Some popular platforms for courses that get used in learning circles are:
4. A FEW EXTRA NOTES