In case you missed it, your facilitator profile is now live on your learning circles Dashboard!
Over the past few weeks, we have added profiles for facilitators and redesigned the team pages.
Facilitator Profile
Facilitators are truly the key to making learning circles successful, and yet they were not visibly featured anywhere on the learning circles platform. We wanted to help learners draw a stronger connection with the people behind the learning circles when they are browsing the team page or the signup page. This also gives you more opportunity to control how you appear on the website.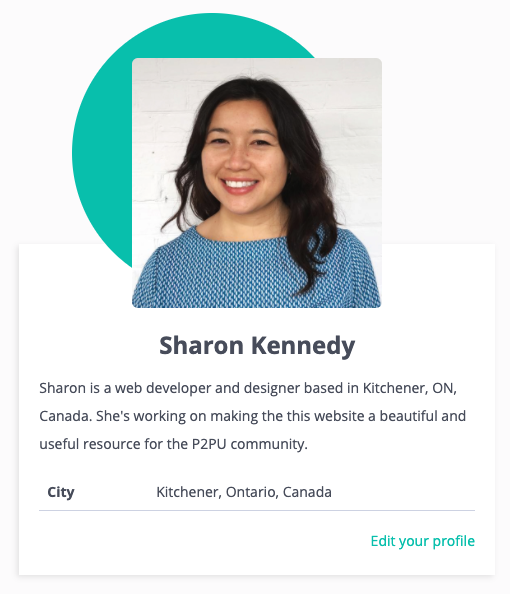 The facilitator profile as it appears on the Dashboard.
The main changes are:
On your account settings page, you can now edit your first name, last name, profile picture, bio, location, and contact URL
You can see your bio on your Dashboard
Your profile will also appear on your Team Page, if you are part of a team
Your profile will appear on the Teams Directory if you are an organizer.
We are still in the process of updating the learning circle signup page, but once that is complete your profile will appear on that page as well.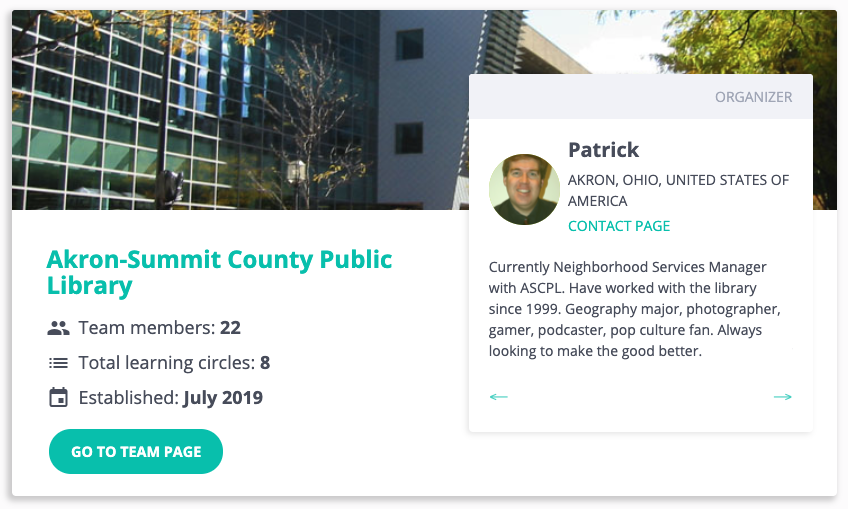 The organizer profile on the teams directory.
Team Page
Previously, the team page was essentially just a list of all the learning circles happening within a given team. This would only be useful to learners who come to the page already knowing about the team and about learning circles. It was not very useful as a landing page for the team. We wanted to provide more context on the team, team members, and learning circles so that potential learners could land on this page and get a better understanding of the program before browsing the learning circles.
The main changes on the team page include:
A custom team image
A short intro to learning circles
An "About Us" area that teams can set to introduce their learning circles program
A slideshow of all the profiles of team members and organizers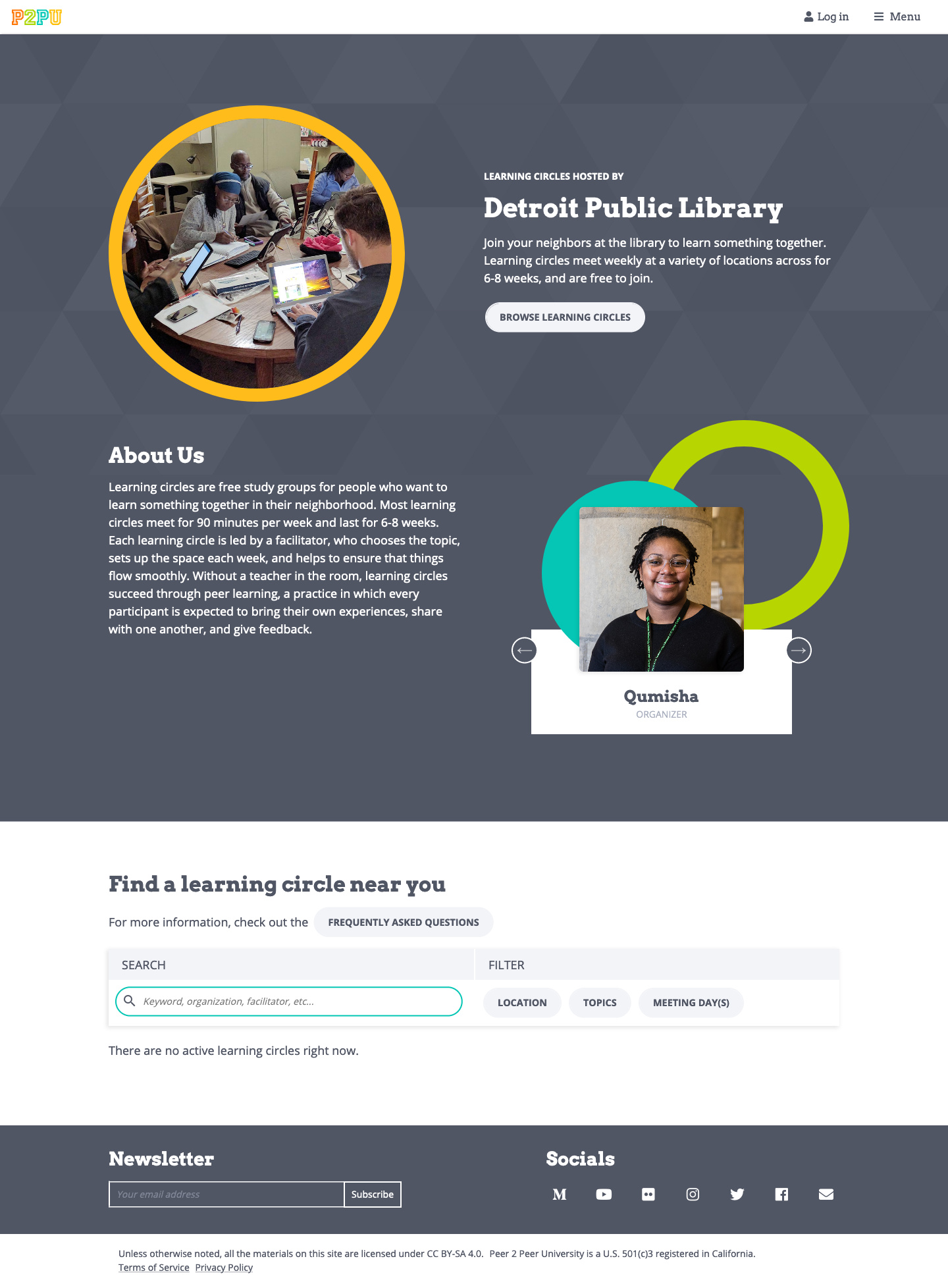 An example of a team page with some placeholder text (but a real photo of facilitator Qumisha!)
Updating your team's page
Only team organizers can update the team page with the custom image and "About Us" text. We will reach out to organizers directly with more instructions.
Coming Soon!
Redesigned signup page
Your facilitator profile will soon show up on the learning circle signup page, which we are currently working to update. It will also include more room for customization and a colourful design. We've already started another thread about the changes to the signup page, so if you'd like to learn more and provide feedback, please feel free to join the conversation!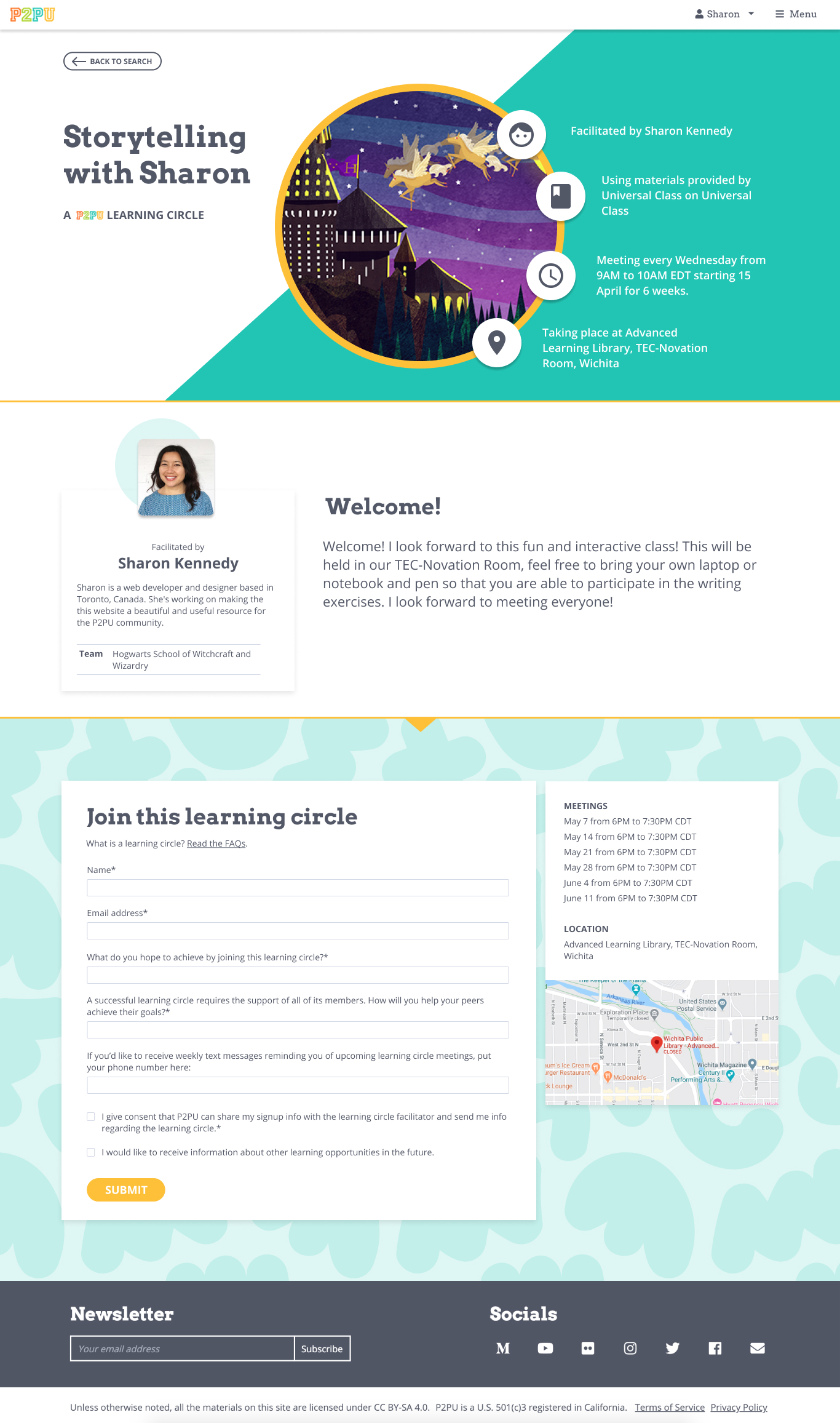 Mockup of the new learning circles signup page
Featuring past learning circles on the Team Page
We've heard from some facilitators and organizers that they would like to be able feature past learning circles on the team page. This would give learners some context about how active the team is and what types of learning circles they have hosted in the past. It would also allow teams to showcase the work they've done and celebrate the successfully completed learning circles.
Invitation to join our User Experience (UX) Working Group
We are still in the process of updating the team page with past learning circles and we would love to get more input from facilitators. To that end, we're creating a User Experience (UX) Working Group! This group is for anyone interested in sharing their experience and contributing ideas or feedback to our ongoing development efforts on the P2PU platform. Our first task will be to decide on how to display past/closed learning circles on the team page.


If you'd like to join the group, you can learn more and sign up here: https://forms.gle/kWJTP5pVAuPVRzqu5