Hello, I am Lisa from the United States. I am interested in learning more about this community.
Hi Lisa! Welcome! Where in the US do you find yourself? We might be able to connect you with someone near by.
Hello! My name is Jessie Mae, and I live in Fort Worth, Texas. I am joining P2PU because I am intrigued to participate in a learning circle and be reciprocal in the learning process. If there is a circle for people learning Spanish I am interested to be a part of it. I am also interested in topics such as civic engagement, career pathways, and leadership. I have been teaching myself Spanish and recently took a trip to Nicaragua to immerse myself. It was super challenging and made me realize I have a ways to go in my learning. I look forward to connecting with some of you! - Jessie Mae
Aloha, and greetings from the currently snowy mountains and icy lakes of New Hampshire! I'm coming back to P2PU after a few years away due to a change in jobs. I am looking forward to seeing how the platform has evolved and what it's intentions are moving forward. As the director of the Dept. of Innovation & Technology for the Inter-Lakes School District, and as a board member for the non-profit organization Open World Cause, I am looking for a fresher alternative to learning and the management systems that support it.
I am also looking to connect with those who have a different perspective on what learning is and can be for those who seek to learn, as well as for those who have something to share.
Slainte,
John Martin
Hi Jessie, welcome!
We have one connection who has also been using learning circles in Texas (in Austin I believe), but more focused towards supporting native Spanish speakers. @Alexis_Burns used this course (https://www.edx.org/es/course/basic-spanish-1-getting-started) for learning circle.
Are you connected to a local non-profit or library?
Looking forward to staying in touch!
Hey John, we're probably "enjoying" the same icy wind, I'm based a bit north in Kingston, Ontario.
Welcome back! If you're interested, here is a good summary of how P2PU has changed over time.
In more rural and remote areas, Open World Cause might be interested to learn what is happening in Uganda, Zambia, and Kenya with their library systems. Impact of learning circles in Africa Happy to make connections if you are interested.
Thank you Nico!
I will check out this link and look into if my local library has a Spanish group I can join.
Take Care,
Jessie Mae
Hello my name is Joan Njogu,I facilitate learning circles at Kenya National library services Meru.
Currently i'm facilitating Interview skills and i realised the best way to help the learners interact is through introduction icebreakers especially when you have big number of youths who are shy .
Hi, my name is Lindsay Southworth. I am a program manager for Language Learning at the Free Library of Philadelphia and am hoping to learn more about how to facilitate peer language learning opportunities through Learning Circles.
Hey Joan, I'm putting together a post on ice breakers in the coming weeks. What are your favourite?
Hey all! I'm a bit late to the intros but before I posted a question on another topic I thought I'd say "Hello". I'm Marsha from San Jose Public Library in CA. I started running Learning Circles at my branch in 2017, and have lead a few since then as well as coached some newer facilitators in our system. Looking forward to hosting another Learning Circle starting in March or April!
Hello I'm Grant Croley. The director and one of the instructors at Elevate Madison Ministries a non-profit organization that teaches computer skills to the under and unemployed people of Madison Tn a suburb of Nashville Tn.
I'm excited to learn about p2pU and the learning circle model of teaching. We currently use a traditional instructor lead style of teaching, It has served us well but we are hoping to have a more sense of community within our classes and make deeper connection with our students.
I'm hoping that learning circles we help us make that deeper connection. In addition as we can start to grow a community of learners in Madison, we can raise-up facilitators to cover more topics that we teach traditionally today.
The latest thing I learned was over dinner tonight. I do not like balsamic dressing.
Thank you including in the p2p community
Grant Croley
Welcome @Grant_Croley! Great to be connected! There's a large range of basic computer courses out there, as well as many higher level technical resources. I'd be curious to hear what interests your community. Looking forward to discussion facilitation strategies in the future.
How did you hear about us? Are you a member by any chance of NDIA? A few of us will be at their net inclusion event in Charlotte come April.
Hello everyone, this is my very belated introduction to the community space. I am a department manager at the Cologne Public Library and am in charge of our Learning Circle program. We've dubbed them "Lernteams" here in Cologne and have hosted five since the fall of 2017. So far so good, but we do of course want to improve and expand. I am also participating in the EU LCIC (Learning Circles in Libraries) project along with the P2PU team.
Hi! I'm Gwendolyn Haley–a Public Services Manager from Spokane County Library District in Spokane, Washington (USA). We are just dipping our toes into learning circles, and particularly interested in using learning circles to increase educational opportunities and accessibility for rural communities.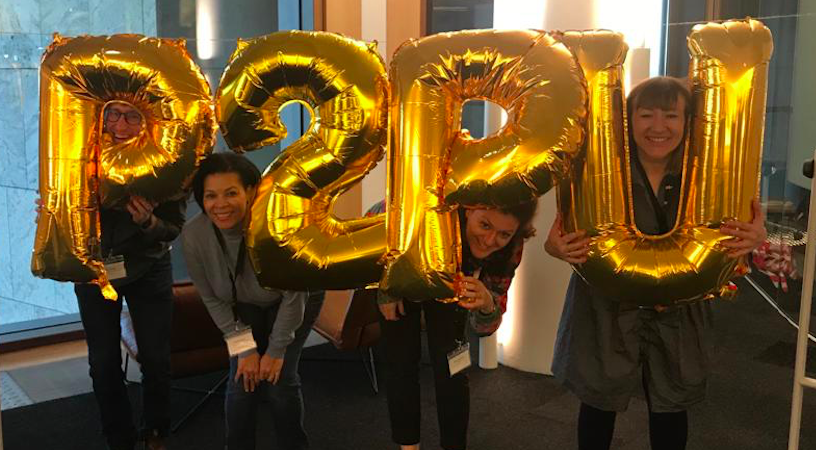 Hey @Nicole_James Great to see you here. That you are hiding under 2!
Hello, everyone. My name is Qumisha, you can call me "Q". I'm a Librarian at the Detroit Public Library. I had the random thought that became the Q method. I'm excited to be in our new digital space, and to share information and ideas.
Hi, my name is Tran Khoa, and I am a lecturer at Hoa Sen University, from Viet Nam.
Thank you for your platform and your learning circles