There are many ways to understand community needs, from considering your own experience, doing resident interviews, reviewing data or local news, or simply by talking and listening to people in your community. A process that we recommend when gaining community input and guidance is called the Q-Method, named after Qumisha Goss, librarian and learning circle facilitator from Detroit Public Library.
The Q-Method is participatory public bulletin, created using paper, tape and stickers, to document and display community interest on specific topics, online courses or ideas.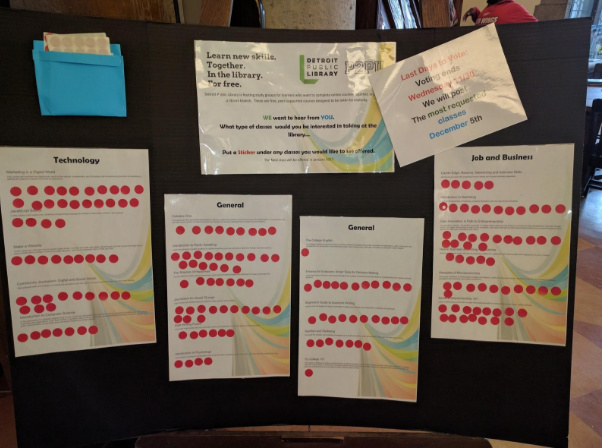 The most popular course with 20 votes was Marketing in a Digital World. There was a tie for second place – Introduction to Public Speaking and Social Entrepreneurship 101 both received 16 votes. To start 2017, Parkman Branch, based on the results, offered both the marketing and public speaking courses as learning circles.
In practice, the Q-Method has often been used to document library patron interest in already available online courses in order to determine which learning circles would be have the most uptake. In addition, the Q-Method can have applications for generating feedback on other issues, including organizational decisions, programming directions, and community satisfaction levels.
Process
Update the default courses listed on the template with topics that you expect your communities will be interested in. (Not sure how to search for online courses? Click here!)
Search p2pu.org/courses and document 20 courses based on a range of interest that you suspect your community to be interested in or would benefit from.
Print your Q Method and tape or pin it to a bulletin board or wall close to the entrance.
Place stickers near by to poster. No stickers? A marker on a string works well too.
Leave the Q Method up for a few weeks.
Review feedback and choose the most popular stickered course or courses to run as a learning circle.
For more information, check out Dotmocrocy. Dot-voting (also known as dotmocracy or voting with dots) is an established facilitation method used to describe voting with dot stickers or marks with a marker pen.
And, again, here's the Q Method template to get you started!