We're excited to tell you about some significant changes we've made to the P2PU website and learning circle toolkit!
We redesigned the Facilitator Dashboard to make it easier for you to manage your learning circles and stay informed about what's going on the P2PU community.
We added a Teams page where all the teams and organizers are listed.
To help team organizers, we added two new ways for adding facilitators members to teams: by specifying a team email domain that automatically invites people and by adding a custom invitation link for each team organizer to share with prospective new team members.
The New Facilitator Dashboard
We set out to make the following improvements to the facilitator dashboard:
Make it easier to manage multiple learning circles.
Create a central space where facilitators can quickly access information that is most relevant to them from across the P2PU.
Provide updates about what's happening in the P2PU community so facilitators feel connected and informed.
Here's what the new dashboard looks like: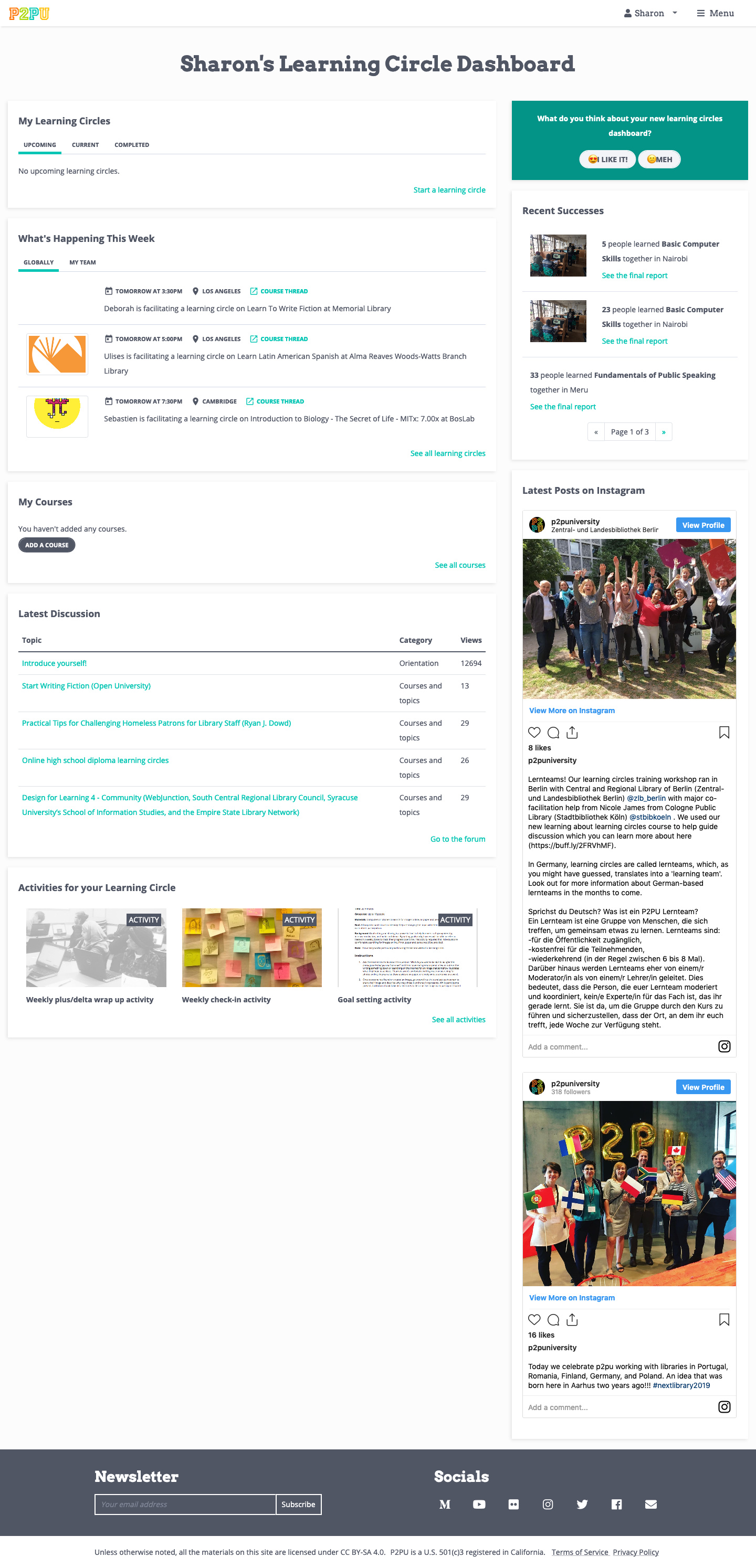 As you can see, the new Facilitator Dashboard is organized into several blocks or "widgets", each with its own purpose. They include:
My Learning Circles: View and manage all your learning circles, organized by Upcoming (including drafts), Current, and Completed.
What's Happening This Week: See at a glance some of the upcoming learning circle meetings that are taking place around the world. If you're on a team, you can also see your team members' upcoming meetings.
My Courses: View and edit the courses you've added to the platform
Latest Discussion: A preview of the latest discussion threads from our community forum.
Activities for your Learning Circle: A selection of resources we think you'll find useful for your learning circles.
Recent Successes: A short feed of recently completed learning circles where you can view the final report to see how they went.
Latest Posts on Instagram: A sneak peek into our Instagram feed.
If you're part of a team, you'll also see an additional block called My Team's Learning Circles, where you can see the upcoming, current and completed learning circles run by the other facilitators on your team.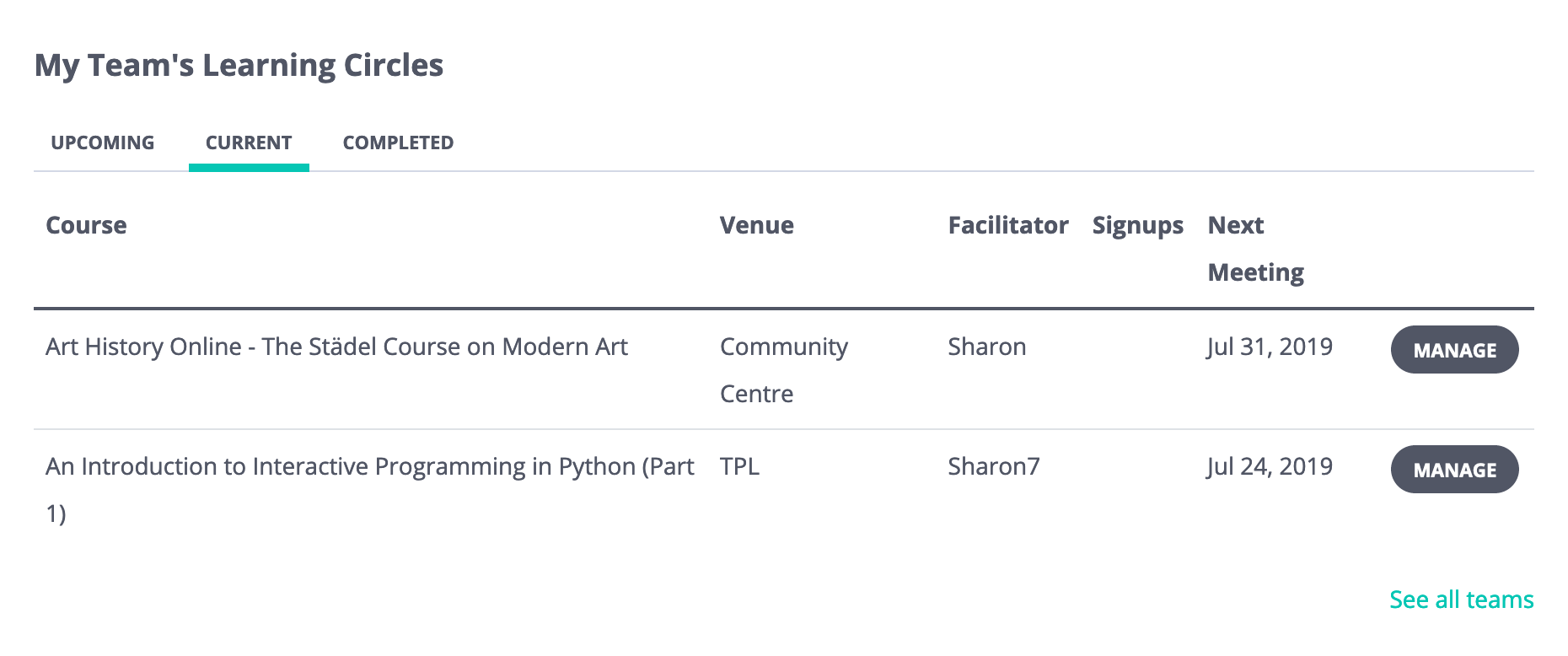 If you're a team organizer, you'll see an additional block called Team Members. It includes a table of your current team members, your pending invitations, and a tab where you can invite new team members.
The new Facilitator Dashboard introduces a lot of new changes, so we are very open to your feedback and any suggestions on how we can make it even more useful for you. Feel free to leave your comments here, or fill out the survey on your Dashboard. Look for this box to start the survey:

Teams Page
While all learning circle teams have their own landing page (See Berlin and Kenya for examples), there isn't a way to see an overview of all the learning circle teams. Since more than ⅔ of learning circles are affiliated with a team, we wanted to make this work more visible. The Teams Page:
Provides a comprehensive listing of teams around the world.
Allows potential team members to connect with team organizers.
Provides easy and direct access to a team's learning circles.
Here's what the new Teams Page looks like: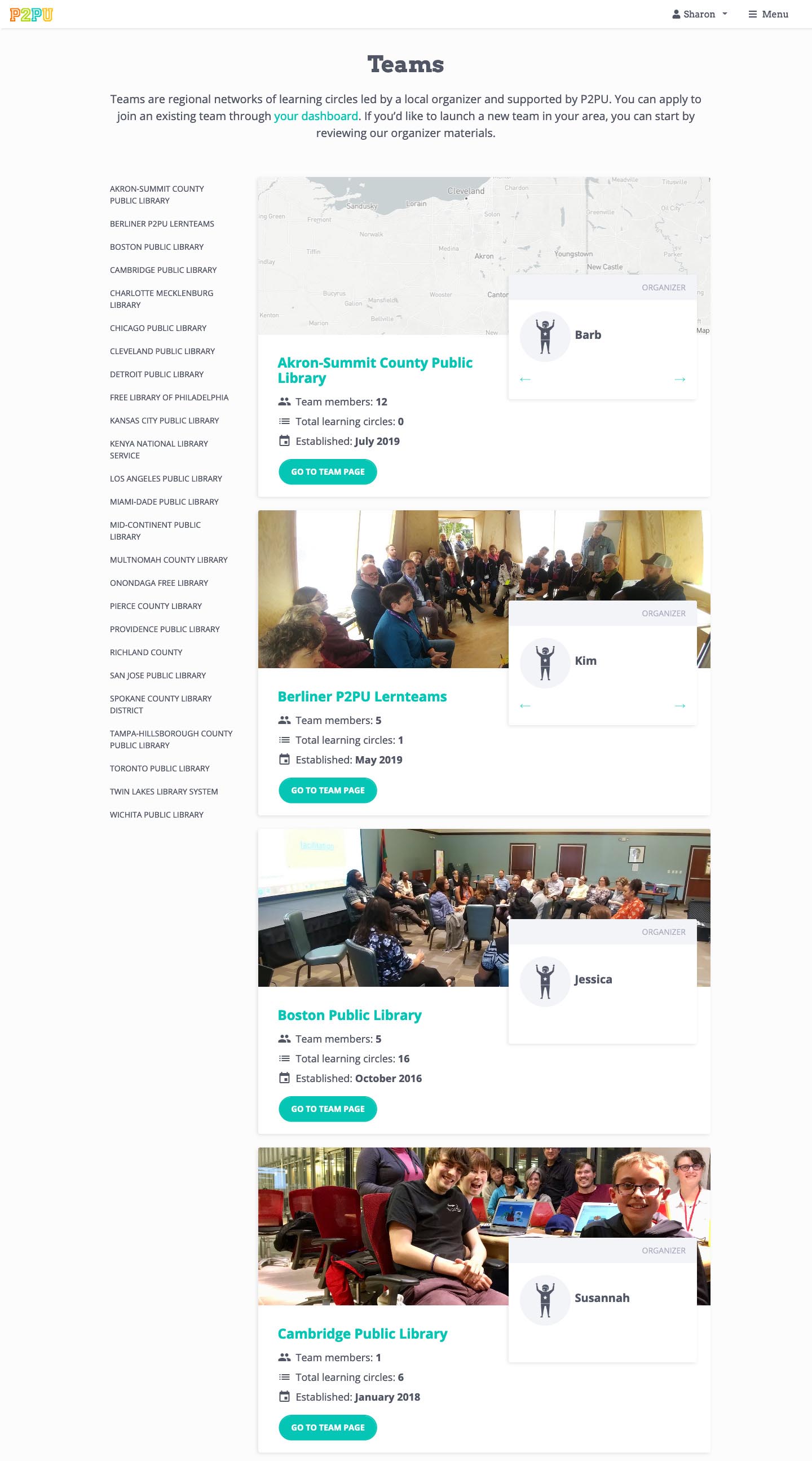 The Organizer profiles are pretty sparse for now, but that is because we've only just added the ability for facilitators to provide a photo and bio on their Account Settings page. You can fill out your profile now if you want! However for the moment only team organizers will have their profiles displayed on the website. As the team organizers add their profile information, you'll see it reflected on the Teams page.
One more note: if you're on a team, you can now leave the team from your Account Settings page.
For Organizers: New Ways to Add Team Members
Previously, team organizers could only invite team members individually by sending an invitation to their email address. Based on the organizer experiences we've observed, we added more options for adding team members. Now there are three ways an organizer can add team members:
Option 1: Email invitation
This works the same way as before, but now you'll find the invitation form on the new Facilitator Dashboard in the Team Members block under the "Invite New Members" tab.
Option 2: Matching email domain
If your team is associated with an organization that has its own email domain, we can save the email domain in your team settings so that any new facilitator with a validated matching email address will automatically receive an invitation to join your team. For example, if your team members all have staff emails such as sharon@bigpubliclibrary.org, you can set bigpubliclibrary.org as your team domain so that when someone with an email address like nico@bigpubliclibrary.org registers on the P2PU platform, they'll get invited to join the team. If you want to use this method, please contact us directly to set the email domain.
Option 3: Invitation link
As an organizer, you can generate a unique link that allows anyone with the link to join your team. You can generate the link on Facilitator Dashboard in the Team Members block under the "Invite New Members" tab. You can also regenerate the link whenever you want, making any previous links inactive, or you can disable the invitation link altogether.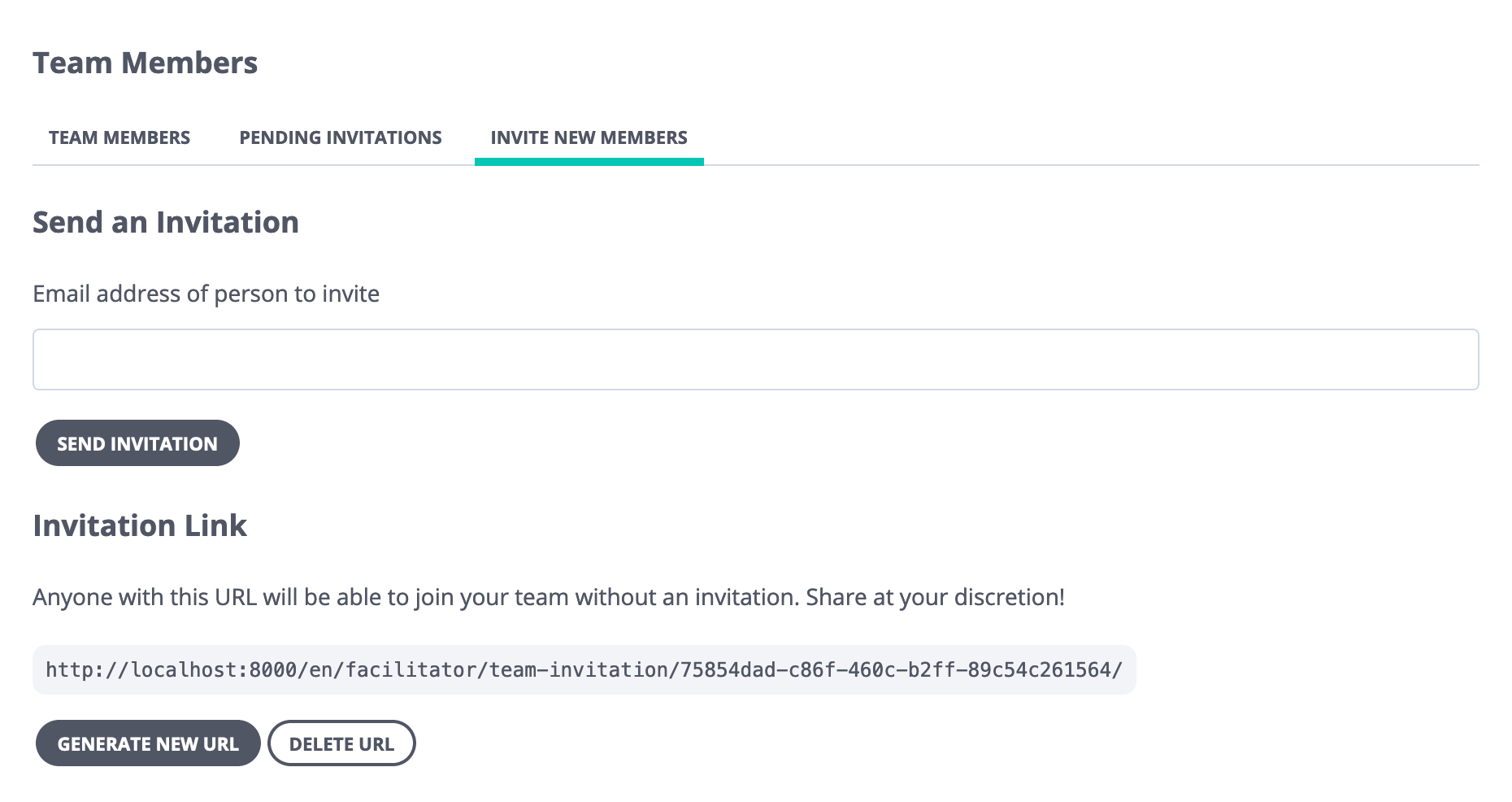 Feedback? Thoughts?
What do you think about these changes? Feel free to leave a comment with your feedback and suggestions!