How do I change the email address associated with my P2PU account?
Thank you.
We have to do it on our end - can you email us with what you want us to change it to?
I've updated your account, try logging in now!
I can now log in using this email address. It still shows the old email address in my profile though.
Can you try again and refresh your dashboard? If it persists please send a screenshot.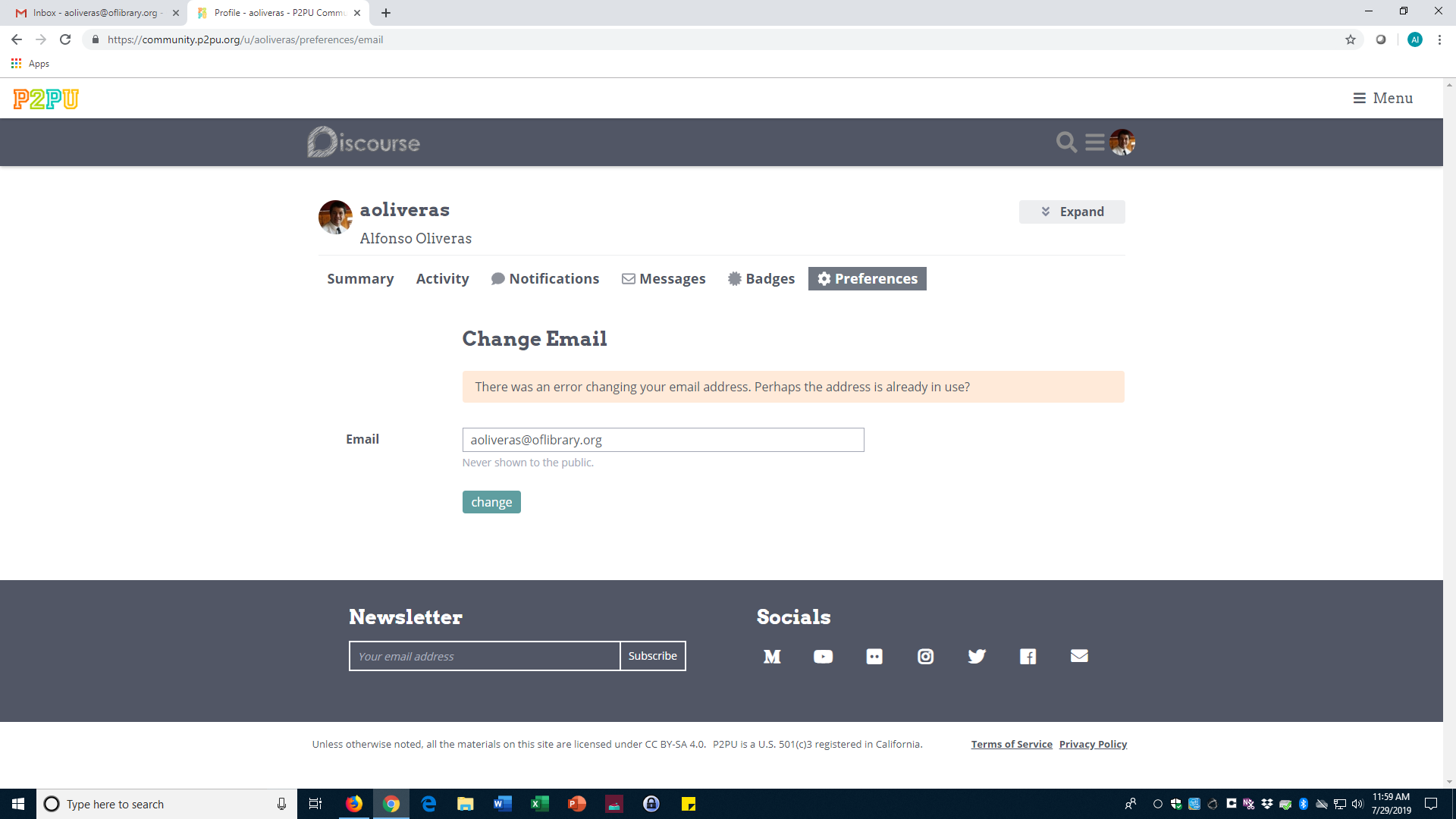 @dirk can you help Al getting Discourse set when you have a moment? He is having trouble updating his account to reflect his new email address, which I updated earlier on Django.
Hey @aoliveras
I think you need to log out on community.p2pu.org and then log in again. That should update your email address - community.p2pu.org is a separate system from your dashboard, but it is set up so that you can sign in using your dashboard account, when you sign in on community, your account is created/updated.
Hope that solves it, if not, let me know and I'll investigate further.
Dirk,
Still no luck. When I try to edit the email, it keeps giving me the same error (screenshot in thread). Could it be that I am using it on another account? I do not recall creating one.
Could you see if there is another Discourse account using █ █ █ █ █ █ @oflibrary.org?
Hi @aoliveras, you were right, there was another user with your email. I've deleted that user, there wasn't any associated activity, so please try again and see if you can now use your updated email?
ps. sorry for the delay in response, I've been sick over the last week or so

That was it! Many thanks.
@dirk, could you change the email for two of my colleagues on the platform as well? █ █ █ █ █ █ █ █ █ █ (█ █ █ █ █ @onlib.org) and █ █ █ █ █ █ █ █ █ (█ █ █ █ █ @onlib.org). The new domain name is oflibrary.org. Thank you.
I've changed their emails. Please confirm if it's working?
ps. I've also edited the posts to remove the email addresses so they're not up here forever

Everything seems to be OK. Thanks again.